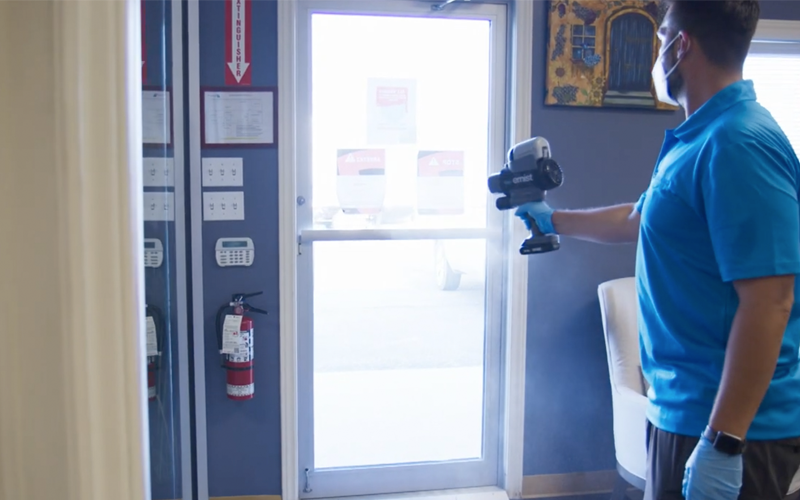 Electrostatic disinfecting is a more effective and longer-lasting way of sanitizing an area when compared to traditional cleaning methods. Traditional cleaning no longer does the job and with COVID running rampant in many parts of the world, there's no room for error when it comes to sanitizing and disinfecting high-traffic areas in both residential and commercial facilities.
Traditional Cleaning Is Inefficient And Time Consuming
The traditional method of spraying and wiping down surfaces is not only inefficient but it can take up to fifteen times longer than electrostatic disinfecting.
Due to the additional time spent on traditional methods, the cost of labour increases as it takes professionals much longer to complete any given task.
There are plenty of hard to reach areas that you're just not going to get at with a cloth and spray bottle and, unlike electrostatic disinfecting, it's very difficult to clean all surfaces consistently. This inconsistency will not kill all of the germs and is leaving people vulnerable to infections.
And, without even distribution of cleaning solutions, the waste is also prevalent in traditional methods.
Electrostatic Applications Thrive Where Traditional Cleaning Fails
Electrostatic disinfecting technology offers a solution to all of the issues surrounding traditional methods of cleaning. This system uses patented dual propulsion electrostatic technology. It allows the spray pattern to be distributed evenly across all surfaces which ensures that even the hardest to reach spots receive just as much disinfectant as other areas. This is nearly impossible to achieve when using traditional cleaning methods.
While being a highly-efficient method of cleaning, electrostatic disinfecting also cuts out up to seventy percent of chemical usage.
Many industries, such as the airline industry and the public school system, run at a very fast pace. There are very few times during the day where professionals can spend a long period of time cleaning. The Electrostatic Disinfecting Process works in combination with disinfectants to thoroughly disinfect the areas within our communities to keep everyone safe.