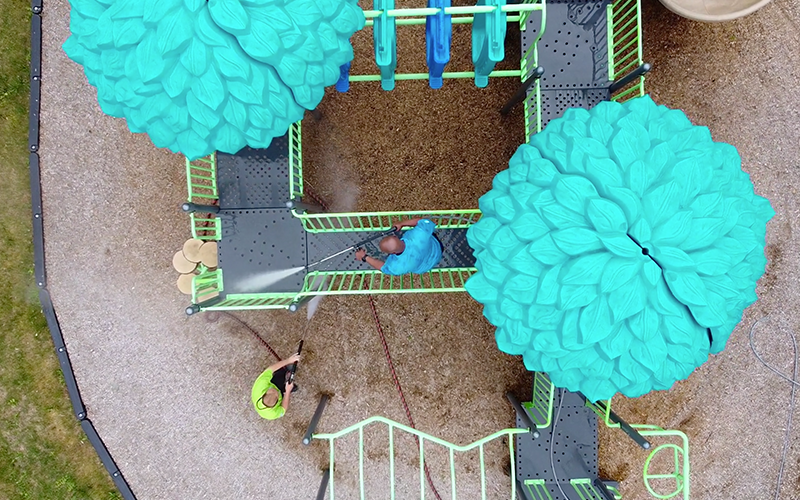 It's no secret that parks can be a breeding ground for germs. With playgrounds being rarely cleaned, germs and bacteria can build up on all of the surfaces that children play on. During these difficult times, it's important to ensure that children are safe when they're playing outdoors and spending much needed time away from their devices.
Dynamo Sanitizing has developed an eco-friendly and highly-efficient method of sanitizing and disinfecting playgrounds in order to ensure the safety of children and their families as they visit their neighbourhood parks and playgrounds.
Dynamo Sanitizing's In-Depth Process
Dynamo Sanitizing uses industrial hot steam generators, industrial hot water pressure washers and cordless electrostatic disinfection sprayers. These help ensure that each surface area is disinfected properly. Even the hard to reach areas!
Our equipment is routinely maintained by qualified technicians to ensure that it is always functioning to its maximum potential.
Hot Steam and Pressure Wash Application
One part of the process is ensuring that all dirt and grime are properly disinfected. When you wipe down high risk areas, and don't get all of the dirt and grime, the success rate is only about thirty percent. With hot steam generators that are approved by Health Canada, we eliminate pathogens before they become airborne. After the hot steam has been administered, we then use a hot water pressure wash application.
Electrostatic Disinfection
Our Electrostatic Disinfecting Process is then applied to ensure that each section of the playground reaches the lowest possible level of pathogens.
In combination with Dynamo Sanitizing disinfectants and detergents, our electrostatic technology positively charges the solutions which cling to negative or neutrally charged pathogens living on all surfaces. This means more of the product sticks to playground surfaces, rather than falling to the ground. Electrostatic disinfectant operates at a 99.9 percent kill rate, making it a highly efficient method of cleaning parks and playgrounds.
Antimicrobial Shield For Added Protection
Next, an antimicrobial shield is used. This attaches microscopic pins to a surface, which kills bacteria instantly. This extra step ensures that every pathogen is killed and children and adults alike can enjoy their time at the playground. This added level of protection can last up to 30 days.
Swab Testing
Swab testing is used to verify the pathogen levels on the playground surfaces both before the sanitizing process and after. Dynamo Sanitizing's job is finished when the playground pathogen levels read a safe and accurate number.
With our extensive treatment process, playgrounds and parks can be fun again. It is our mission to eliminate both pathogens as well as the need to worry about germs and cross-contamination.